This post is Day 4 of Vibrant Homeschooling's "12 Days of Christmas Teachable Moments" series. 
Click here to access previous posts in the series.
Each year, I long to make Christmas about Jesus.
I long to point my children to worship the Father who sent His son instead of creating long wish lists.
I don't always succeed, we are, after all, human. And there is fun in Christmas, for sure. But, I've found that praying the Scriptures through this special time of year is very meaningful, and keeps our hearts focused on the right things.
How to Pray the Scriptures
Now before you run off all scared because you have no idea what "praying the Scriptures" means…let me reassure you, don't make it harder than it needs to be.
For me, there are times when I have no words…and that's when His Word gives me words to pray.
There are times I don't know WHAT to say… and that's when His Word gives me the words to pray.
There are times I have no idea what God's will is… and that's when His Word gives me the words to pray.
There isn't one magical way to do this: I read a passage of Scripture, I speak it aloud to God, I rephrase it into my own words, I add in the names of my children or family members.  Just take the words of God and make them your prayer. Re-phrase if you like, but you don't have to!
Let me give you an example. I love praying the Psalms. Many times you can find me praying, "Show me your ways, O Lord; teach me Your paths. Lead me in You truth and guide me, for You are the God of my salvation; on You I wait all the day." Psalm 25:4-5. "You are my shepherd, I shall not want. You lead me beside quiet waters, You restore my soul." Psalm 23:1, 3. "I will bless you at all times, Lord, Your praise shall continually be on my lips. My soul will boast in You alone, Father. I seek You and You hear me, You deliver me from all my fears." Psalm 34:1,2,4.
We know that God's Word is powerful. We know that prayer brings peace. So, when we pair those powerful two components together, God can truly work miracles in our hearts.
In fact, I first learned about praying God's Word when the Lord took me through periods of depression and taught me to pray His word. I believe that this simple activity is what sustained me during those darkest moments.
How Does this Apply to Advent?
Maybe you're like us and December gets crazy on the calendar.
Here's one way to incorporate praying the scriptures: Light a candle at the dinner table, read one verse of Scripture, discuss and pray. It doesn't have to be difficult or long. Sometimes the most powerful lessons are not in the longest sermons!
Or maybe you'd like to spend a few minutes before bed. Or in the morning for a devotional time. Whatever fits this season for your family…with a little bit of intention, you can make it happen.
Light of the World: Praying the Scriptures Through Advent
I have put together 31 verses, each one pertaining to LIGHT, from the Bible. I have written very short, little devotions for each day and put it together in an ebook called Jesus, Light of the World: Praying the Scriptures Through Advent.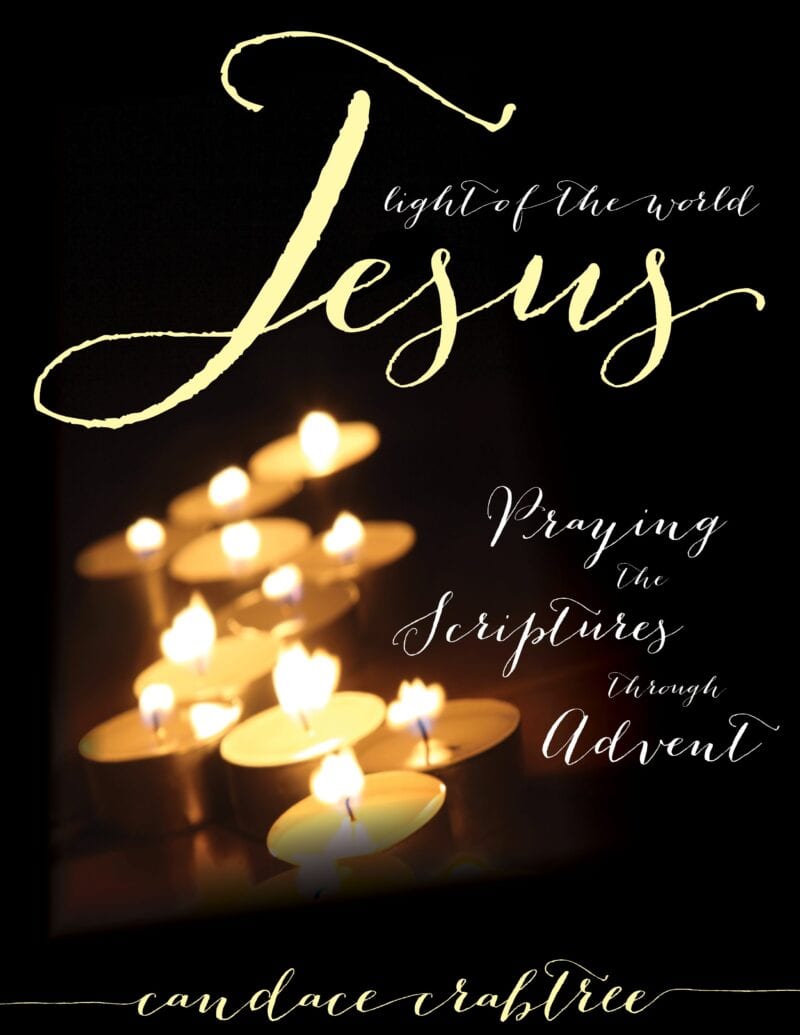 Included in this guide are ways to use this resource and ideas if you would like to turn it into a full-blown unit study on "light," or maybe a word study on "light" from the Bible. There are also journaling lines to write out your own prayers.
I would love for you to join us on this journey of praying God's Word through the Advent season! Let's focus our hearts on Jesus, light of the world!
I am giving away a e-copy of this resource, along with another e-book I've put together called 31 Days of Scriptures to Pray With Your Family.
Enter below to win either Jesus, Light of the World: Praying the Scriptures Through Advent or 31 Days of Scriptures to Pray With Your Family! Two winners will be chosen–one winner per book. Giveaway ends at 11:59 p.m. on December 1.
I pray that the Lord makes Himself so tangibly present with your families this Advent season! Digging into His Word and praying His very Words is one awesome way to do that. I pray this journey of praying God's Word blesses you like it has me.
Candace is just a messed up mama in need of God's fresh new mercies daily. She, her husband and their 3 children live in the beautiful foothills of the Smoky Mountains in East Tennessee. Candace blogs at His Mercy is New where she shares the journey that God has taken her on through depression and how He has encouraged her heart through praying the Scriptures. You can find her on Twitter, Instagram and Pinterest.