Fall is such a great time of year, wouldn't you agree?
I love the introspection we feel as we discover the world adapting to the cooling temperatures… we come together over family feasts…and we share wonderful annual traditions such as bonfires, pumpkin patches and apple picking.
All of it seems to be building up to Thanksgiving–that wonderful holiday in late November when we are surrounded by family and friends as we remember that there is always, always something to be thankful for.
Best of all, Thanksgiving readies our hearts for the coming Christmas celebrations. We can enter the holiday season with filled-up hearts that are ready to serve and to worship the birth of our Savior!
With this in mind, I've created the ultimate round-up of crafts, activities, printables and books that can help your family cultivate a thankful heart during this season!
Thanksgiving Unit Studies, Lapbooks and Printables:
I love this Thanksgiving Hymn Study by Not Consumed. What a beautiful way to adopt a posture of praise before entering the Christmas season!
CurrClick has many free and low-cost Thanksgiving lapbooks.
Here's a Thanksgiving Calendar Printable with gratitude prompts, scriptures and quotes and pocket chart cards from Proverbial Homemaker.
Check out the free "Learning to Be Thankful Printable Pack"…
…and the free "Thanksgiving Fun and Learning Pack" both from Year Round Homeschooling.
My Joy-Filled Life also has a free Thankfulness Scripture Copywork Printable right now:
Thanksgiving Books:
"We Gather Together—Sanity and Celebration at Thanksgiving"  e-book from Raising Real Men.
Here are some awesome thankfulness-themed read alouds: 
And a few board books:
Audio CDs (maybe to play while you're completing all those thankful journals and printables?):
Thanksgiving Activities and Crafts:
There are lots of great ideas (75 of them to be exact!) that can help you teach about the glory of fall and Thanksgiving. Some of them are more general, while others focus on thankfulness.
75 Fall Family Activities That Teach: Crafts, Recipes & More!
5 Fall Links and Ideas from His Mercy Is New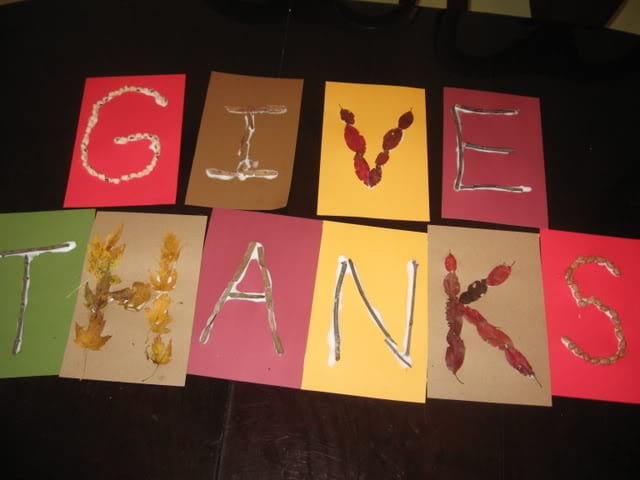 63 Days of Autumn Activities subscriber freebie from Honey's Life
Gratitude Journals (for Kids and Adults!) from Worshipful Living
DIY Gratitude Board (totally cute!) from Maggie May's
"The Thanksgiving Dance: Expressions of A Thankful Heart" from Little Log Cottage School
An Easy Thanksgiving Lesson for Preschoolers by MamaGab
Write Your Own Thanksgiving Psalm from A Nest In The Rocks
"Count Your Blessings" service project from Inspired Academy Homeschool
Thanksgiving Trees Ideas:
Our Thanksgiving Tree—A Yearly Tradition from Apron Strings & Other Things
Here's another beautiful "Thanksgiving tree" idea. I love how Katie of Paradise Praises recommends taking the leaves down at the end of the celebration and using them as the Thanksgiving table runner!
"Our Simple Thankful Tree" from MamaGab
Leaves of Thanks Free Printable (good on their own or with a Thankful tree) from Joy in Our Journey
Posts that Encourage and Inspire Us to Keep Thankful Hearts this Season:
I wrote this post about the importance of remembering Thanksgiving (even as we plan for the, ahem, OTHER, end-of-the-year holidays).
Dear Thanksgiving: You Are Not Forgotten (I Promise)
and this post is about discovering authentic thanks… when life seems anything but blessed.
Giving Thanks Through the Trials and Tears
I also wanted to share these two posts:
"Nurturing A Heart of Gratitude in a Media Driven World" by Mandy of Worshipful Living
"The Real Reason Why You Shouldn't Keep Up With the Joneses" by Early Bird Mom
And there you have it: tons of ways that you and your family can learn about thankfulness!
Enjoy, savor and treasure these times with your children (and with Jesus)!
Your Turn:
What are your favorite ways to celebrate Thanksgiving with your kids or to teach about thankfulness? Which of these will you try this year?
Alicia Michelle, author and online influencer at YourVibrantFamily.com, is passionate about inspiring women to discover the everyday, imperfect beauty of parenting, marriage, healthy living, homeschooling, faith and homemaking. She's also happily married homeschool mom of four curious and amazing kids who keep her on her toes! Alicia is the author of "Plan to Be Flexible", Back to School Survival Manual  and the creator/producer of Your Vibrant Family's online video courses "7 Days to a Less Angry Mom,""bloom" and "rhythm" along with Your Vibrant Family printables. In addition, she is a monthly contributor for several popular family blogs, including Crosswalk.com. Follow her on Facebook, Twitter, Instagram, Pinterest .